This post is addressed to webmasters, developers, programmers, designers, freelancers and others so called WordPress Ninja's, which respects their clients and respect time spent on a new project. When we decide to write a theme from scratch, there are many paths to choose, we always can do it "from zero to hero" and it can be also a good decision. We can also choose the way which is simple and it's based on the experience of other peoples/teams or whole society of WordPress coders. Today I want to write about WordPress starters and I choose 7 to say a few words.
WordPress as others CMS have his own rules, so when we start a new project we must follow with WP rules. If you start to write your first theme, the best way is read what the official WordPress manual page (Codex) says about Theme Development.
But following the rule "Don't reinvent the wheel" sooner or later our work with new project produce a new clean template with our own starter which we can also call "sandbox". But this is not new, other peoples do it in the same way. They also have his own sandboxes and some of them want to share it with others. WP Starter Themes are some kind of sandboxes which are open sourced but some of the themes are more than that. Some of them are like frameworks or use a certain front-end framework or even adopts server another server technology (like templates engine). You can decide which kind you prefer for your project.
1.

Underscores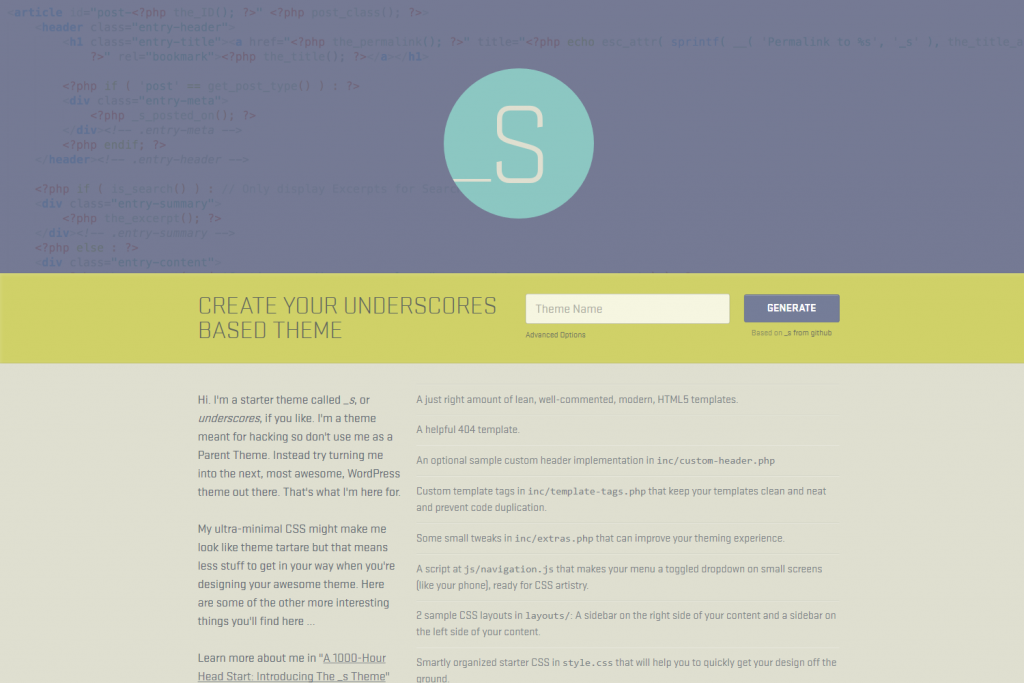 Underscores project page – http://underscores.me
In my private opinion currently, this is the best way to start a new project and be sure that our project starts with 100% compatible with WordPress rules. It has his own generator on the page so you can save additional time and you grab your own theme with your name. Distributed with GPL license.
2. Bones
Bones project page – http://themble.com/bones/
Simply and clean template build with Sass (CSS loader which can speed up your development), which have Custom Post Types & Custom Dashboard Functions Preloaded. Bones is under the WTFPL so is totally free.
3. HTML5 Blank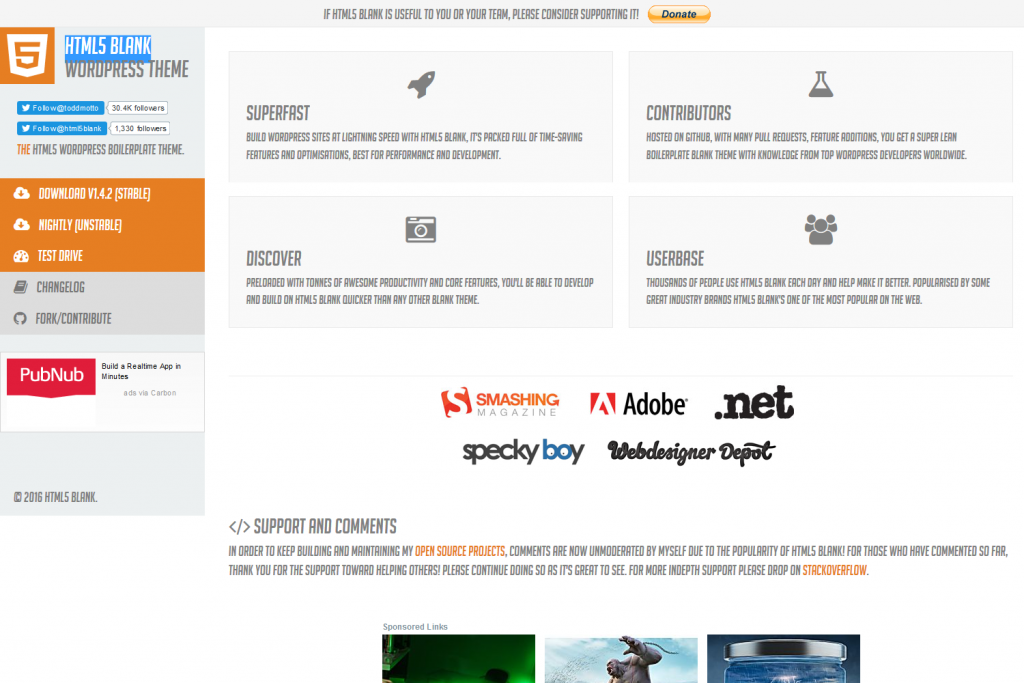 HTML5 Blank Project page – http://html5blank.com/
This is the starter based on another starter HTML5 Boilerplate which is probably the most used starter in the whole web. I grab whole good stuff from the web in one project. It is a professional front-end template that allows you to create a fast, robust and adaptable site with a set of HTML5-ready features and elements.
Distributed with MIT License.
4. FoundationPress
FoundationPress project page – https://foundationpress.olefredrik.com/
This is the first framework which I describe which is totally based on a framework, this front-end (client side) framework called Fundation 6. If you prefer it, this is a good choice. Obviously, it's not the only way to use F6 with WP but this project does the job. The project uses Sass (CSS loader which can speed up your development) and Grunt (minification, compilation, unit testing, linting, etc.).
Distributed with MIT License.
5. JointsWP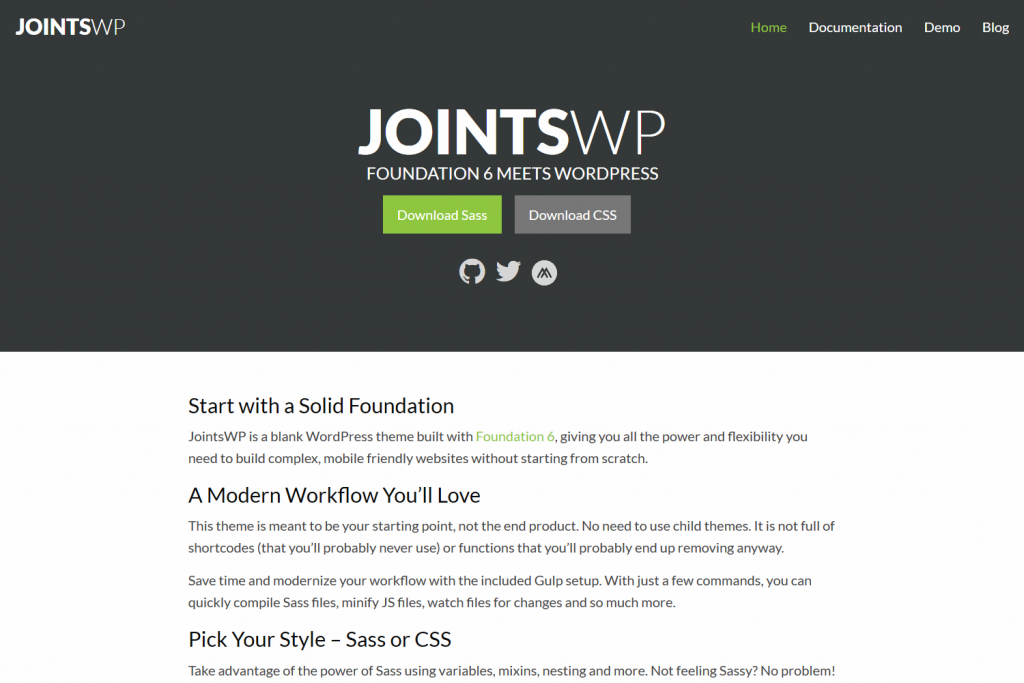 JointsWP project page – http://jointswp.com/
Foundation 6 is now so popular that we have another project based on F6.
It also uses Sass but you can download full CSS version if you prefer.
6. Sprig WordPress Theme
Sprig WordPress https://zach-adams.com/portfolio/sprig-wordpress-starter-theme/
Full package to start work on the new project, there is Twig (server side template language for PHP), Gulp (for SASS compiling, file concatenation, image minifying, javascript uglifying, and LiveReload), Bower (for front-end package management) and Bootstrap (for frontend). I don't know is there a place for WordPress But it is a great project.
7. BootstrapWP
BootstrapWP project page – http://bootstrapwp.rachelbaker.me/
If your choice for front-end is Bootstrap. then you can download this theme and start your new project right away. There is one problem, this project is not supported anymore.